Running Three monitors with single video card
I'm a great fan of Three Monitors configuration and I usually have two video cards with a Motherboard that support two PCI Express 16x. This configuration is not the top, unless you really need to have super high video performance using the two Video Card in Crossfire configuration. I've also the following problems
My Motherboard has two Pci Express physically 16x, but the second one is only 4x electrically, and when I use software like snagit, the overall experience is not so smooty.
My two card are old 4600 Ati Radeon and performances are really low.

I want to get ridded by the need of having two video card, because is a more expensive configuration, with the price you bough two stupid cards, you can have a single better card.
Last week I decided to have a look at Radeon EyeFinity, and trying to run three monitor with a single card. I bought an Ati Radeon 7790 card (for about 110€), replaced both of my old Radeon HD 4600 board and connected all three monitor, thanks to a Display Port to VGA Adaptor.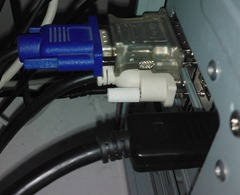 My Video Cart has four output ports, a DVI-D and a DVI-I (Both Dual Link) and a Display Port and I've used both a DVI to Vga adaptor and a Display Port to VGA Adaptor, because two of my three monitors works only with VGA. When I booted the system only two monitor were active, but as soon as I installed Catalyst Drivers in windows, the third monitor started to work.
My Configuration is not really an EyeFinity one, because I've have three monitor with three different resolution. I've a WUXGA (1920×1200 16:10 monitor), another one is a standard FHD (1920×1080 16:9 monitor) and the third is a standard SXGA (1280×1024). This is a standard multi monitor configuration, but if you have monitor with the same resolution you can play game or watch film combining monitor together.
I'm not interested in this configuration so I'm pretty fine using only standard multi monitor configuration.
Finally I've also gained a huge benefit in Desktop Graphics Performance

Now I'm waiting to buy a QHD Monitor :).
Gian Maria.